London has put on its holiday cologne.
I noticed it the other morning when I left for my run. A smell that hadn't been there a few days earlier, and then was. It took me a moment to realize it was familiar and strongly associated with being in Europe over the holidays.
I'm not sure what it is. My guess is it's the smell of home fires burning. We live in a smoke control zone, but smokeless doesn't mean odorless.
That's not the only sign of the holidays. Christmas tree lots have sprung up around the city, and trees of all sizes can be had at your local market. And Christmas trees are being erected and lit in public spaces and in private windows. A welcome bit of cheer.
We normally get a tree early in December. We broke with that tradition last year – we were traveling in the run-up to Christmas – and got a tree just before my sister, brother-in-law, and niece arrived for a visit. (Aside: how can something seem both mere moments ago and ancient history?)
We had an appointment on the other side of London the last day of November, and not knowing how long we'd spend in transit I had told work I'd be out all day, so when we got back, we took the attack of opportunity and got a tree.
The tree lot we found last year and liked is about a mile away – so we trundled over, picked out a suitable specimen, and for the second time had the slightly surreal experience of carrying a 2 meter tall Christmas tree down a major thoroughfare in central London to our flat.
We didn't bring many holiday decorations when we moved, and we sorta expected to be back in Seattle before this holiday for a visit and be able to retrieve a few more. That obviously didn't happen, but that hasn't stopped Dawnise from sprinkling the place with Christmas.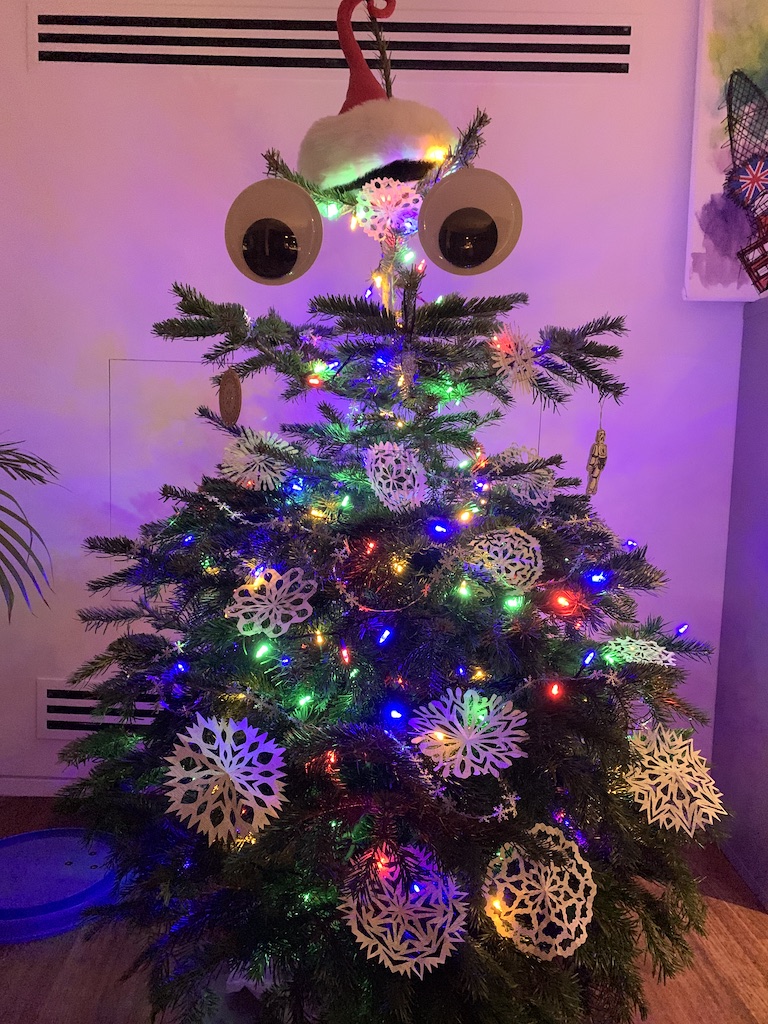 Since we can't go to the Christmas markets, we're going to bring bits of them to us. We've bought the bits to make glühwein, and the "upgrades" to make feuerzangenbowle. Sorta surprisingly we can't locally source individually sized zuckerhuts (sugar loaves) – and shipping from amazon.de is pretty ridiculous, so we're going to "make do" (that's British, right?) with some rough cut sugar cubes. They're the wrong shape, but once the over-proof rum gets involved, the shape won't matter.
After brunch this morning we took a stroll to Konditor and got some mince pies.
So we've laid in the critical bits – booze and baked sweets. I figure that should keep us, at least 'till we have to sort out Christmas dinner.
Happy Holidays. Stay healthy, stay sane, take joy where you can find it, and we hope to see you in the coming year.