As I type I'm sitting on a LNER train to York, Dawnise and our traveling companions scattered through the carriage behind me.
It's the farthest I've been from Central London in nearly two years. It's just for a few days – were back in London on Monday – but it feels..significant.
Foreign.
A feeling I remember from the before time.
The anticipation of a new place. The uncertainty of what we'll find.
"I hope the hotel is as nice as it looked."
"I hope there's a place that makes drinkable coffee."
Getting this far took a surprising amount of work – mostly to find someone to care for our diabetic and hence high maintenance cat(s). After several false starts we've left the boys and a set of keys to our flat in the hands of someone we've only just met, but who seems lovely.
Packing used to be a rote routine. I'm clearly out of practice. I'm pretty sure I packed only what I need, and didn't forget anything. At least not anything I can't obtain or do without for a couple days.
Fingers crossed.
It also reminds me that I really like train travel. Watching the scenery blurring past. The quiet of a not-crammed-full train carriage, people reading, chatting quietly.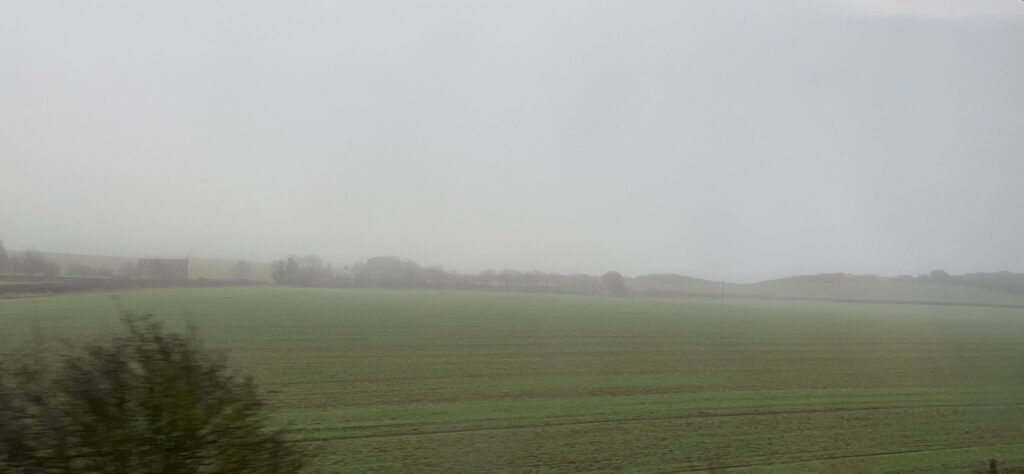 And it reminds me of work trips from a past life.
Wandering around the UK and Europe visiting business partners with colleagues who were good travel companions and friends. The sinking feeling when a colleague realized she'd left her handbag on a train. The incredulity when the train operator confirmed that they had her bag and it would be back where we were via the first train the next morning. The utter shock when it actually appeared as promised, contents intact.
We're approaching our penultimate stop.
Soon I'll be somewhere I wasn't this morning. That I've never been before.
I miss this.