Just over a week ago the humans packed up their stuff, unceremoniously shoved two cats into a box, and took a car across town from our temporary flat to our "permanent" flat.
We'd already nailed down our short list of "pre-move" needs, and once we moved in we got to work on transforming the flat from "habitable" to "comfortable."
A week later it's still work in progress, but there is progress. We've gotten the TV off the floor, and the first couple area rugs should arrive today. We even helped host a birthday party on the weekend, despite our dining chairs having not yet been delivered, and Dawnise made ice cream with the brought-from-Seattle ice cream machine and heavy-ass-also-brought-from-Seattle step-down transformer.
We replaced the old and sightly grotty (I continue to work on my capital E English) combination washer/ineffective-dryer with shiny new dedicated replacements, and I managed to unstack the dryer to fix the installers eff-up without injury (thanks to Mike for spotting me and to Mary for supervising).
As an aside, if you've never seen a washer/dryer stack walk across a room, reinstall one transit bolt and run a load.
No, really, don't. It's bad for the machine and not great for the laundry closet, either.
I assembled a barbecue and unlike Luxembourg – where making fire involved multiple trips around the city and learning the French word for 'adapter' – the LP regulator and canister matched up on the first attempt. It was almost anticlimactic.
I have a 20 minute walk to work, we have two tube stations in striking distance (barbican and old street, in case you're working out a route), and the neighborhood seems to go from bustling during the week to pleasantly chill on the weekend.
Oh, and we have a pretty excellent view. (If you look carefully you can spot St. Paul's, The Eye, and the top of The Shard. Also three ugly brutalist concrete monstrosities, blech.)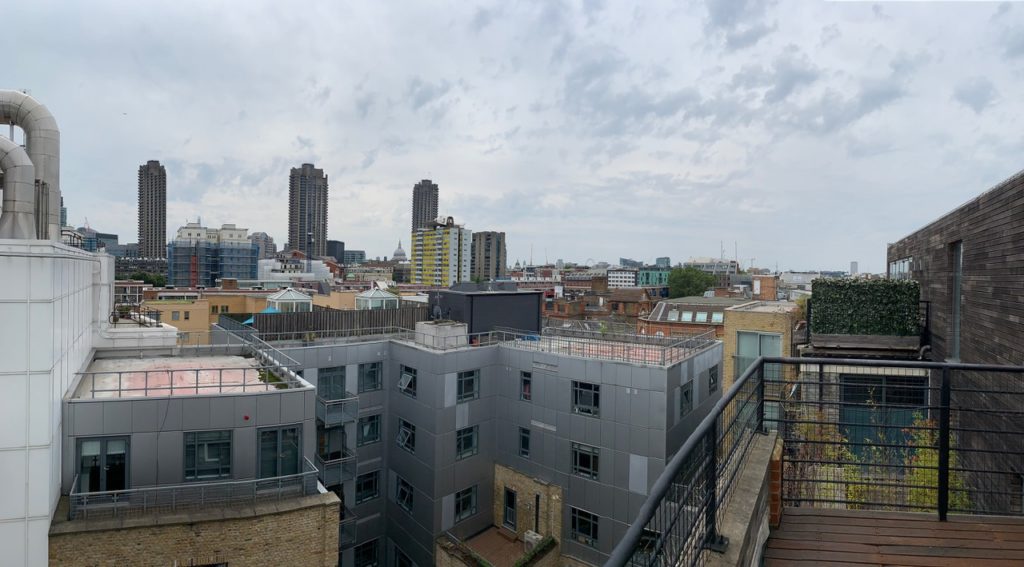 A contractor came yesterday to look at the relatively short list of things that need fixing, so hopefully in a few more days we'll have another working shower.
On the less easily fixed side, the downstairs hall lights, outside the bedrooms, are on motion-sensors that see the cats, so the first night was a disco party all night long. There's no switch to override them aside from the circuit breaker, which is fortunately just outside the master bedroom.
We've got a list of the key items of furniture we need, and a list of places to look for them, so we expect the flat will be ready for a flat-warming 'soon.'
Now we move past the 'moving here' phase into the 'living here' phase.
Hope everyone is well, and of course if your path brings you to London, let us know.
Cheers.
…Dan, Dawnise & the cats.