Last Friday, December 20th, marked half a year in the UK.  And the next day marked our 23 wedding anniversary.  We marked our anniversary on Friday evening with the always-excellent Beef Wellington for two in the dining room of the Goring hotel.  It was a brief moment of calm in an otherwise hectic December, and the evening before my sister, brother-in-law, and niece arrived for the holiday.
The balance of December has been chocked full of stuff.  We even managed to squeeze in Christmas Tea at the Ritz – something Dawnise has literally wanted to do for years.
To rewind a bit… Just after Alfred & Jodie left London for New Zealand, some friends from Luxembourg arrived in London.  We used their five year old daughter as a good reason to experience the particularly British Christmas tradition of Pantomime before they left for the continent and Dawnise and I headed to NY for a weekend.
A weekend in NY?  Who's crazy idea was that?
It all started 'cause 'Nise was going to end the year just shy of status next year, and we were talking about where we could go to get her the last couple thousand miles she needed.  I'd been saying for some years that Dawnise needed to visit NY around Christmas, but since we've been "over here" around the holidays for the past several years we hadn't ever made it happen.  When to my surprise I found inexpensive tickets from London to JFK we overlooked – as in failed to even consider – the duration of the flights (aside: it's nearly as long from London to NY as it is from London to Seattle – spherical distance is weird) and booked tickets and a hotel in midtown.
We arrived mid-day on Friday and spent the weekend walking around NY.  Christmas markets, Central Park, Grand Central Station, Rockefeller Center, shop windows on 5th Ave – and even managed to meet up with friends for lunch.  Our Sunday afternoon departure got us back to London early Monday, and I was only slightly later than normal arriving at work.
If that seems a bit mad, well, it was – and at some point during the weekend we started toasting to "crazy schemes and questionable decisions."  Once said, it stuck, and we invoked it frequently while wandering the length and width of Manhattan in freezing cold (but dry) temperatures.
It was exhausting.
And really good fun.
Before we had cooked up the idea for the NY trip, we had planned a weekend Christmas market getaway to Belgium (Bruges and Ghent) with good friends.  When the French rail strike caused Eurostar to cancel our train two days before the trip, we manage to redirect to a weekend in Bath and Oxford.  Props to Airbnb for graciously handling the refund, and to the grumpy but efficient woman at the national rail counter who got us confusing group rates tickets from London to Bath to Oxford to London.  The Bath downtown was Christmas market-tastic, and we did our best to drink enough gluhwein to pretend we were on the contingent.  The Oxford market was smaller but it, and the city, were lovely – and we got incredibly lucky with the weather – a cold dry weekend.
The weather continued to cooperate, and Monday evening – far later than we would have normally – we had the experience of buying a Christmas tree and walking it home, over my shoulder, through central London.  The kilted fellow who sold it to us gave Dawnise a discount for taking a tree that had lost a bit of its crown in transit.  He likely thinks he got rid of an unwanted tree – Dawnise saw it as a way to get the charlie brown tree she wanted at a discount.
I love win-win situations.
That just about catches us up.  My sister, brother-in-law and niece arrived on Saturday, and we spent the first couple days wandering around the city.  Unfortunately the cold Dawnise had been trying to fight got the better of her, and much to her chagrin and frustration we skipped our traditional Christmas eve cocktails at the Ritz.  It was really only through the miracle of modern medicine (Dayquil) that Dawnise managed to help cook a proper Christmas lunch for 7.
Boxing day has been punctuated by bouts of heavy wind and rain, but that didn't stop our guests from wandering out in the mid afternoon to see more sights.  I imagine when they return it'll be time for a bit of tea and a reprise of Christmas dinner.  They head back to the states the morning of New Years eve – plans between now and then are sketchy, but I'm confident a good time will be had.
To everyone reading this – we hope your holidays are full of cheer and laughter, and we wish you the very best in the start of the new year.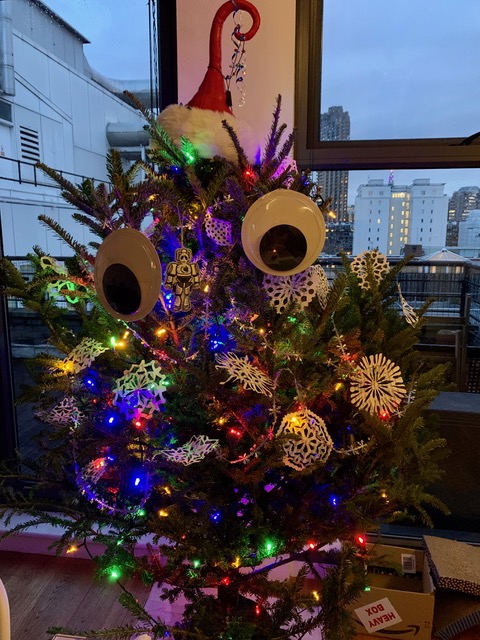 Cheers.